After a few weeks of waiting, we finally got the majority of our furniture. Thanks to the much appreciated assistance from our good friends, we were able to actually get it into the house and assembled without anyone getting stabbed with an allen wrench.
I don't know why they make these things so complicated, but they do…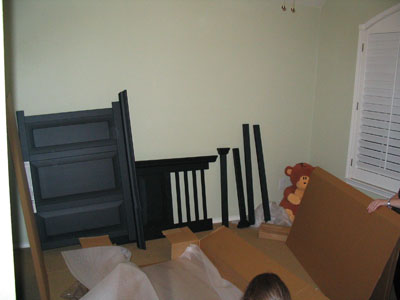 We're not going to pay for assembly! That's madness!
But after a little sweat and cursing, we got the whole thing together. You can see the results here:
We still need our mattress and glider, which are both slated to come in during the next few weeks. In the meantime, we have plenty of empty walls to keep us busy. Christy's constant search for cute animal things resulted in the procurement of the following pieces of wall art:

Aminals!
Once those are up, we'll probably start talking about shelves and bookcases and letters and hot air balloons and monkeys and robots and zombies and ninjas and Farrah Fawcett posters from 1976. So much work to do.
Late Update: Some higher-res images available in the gallery.