Okay, so we've been terrible bloggers lately. Somewhere between going to labor classes, working for The Man, and playing Wii Sports, we completely neglected our duty to keep everyone updated. Sorry!
Apology done. On to the update!
Last weekend we had the first round of our labor class, otherwise known as "Oh, THAT'S where the baby comes out" class, otherwise known as "I don't feel well" class, otherwise known…you get the idea. We learned a lot about heeing and hooing and how I'm supposed to give Christy lots of back massages (she'll lie to you and say that was already happening). What it comes down to is that I'll be completely helpless during most of the labor process, so I guess I need to buy some new Nintendo DS games…and a cast for my arm.
We learned quite a bit about the hospital's labor policies. Turns out they only allow two people in the birthing suite aside from the mother. I can only imagine the tense moments to come as my mother forcibly removes me from the room so someone else can come in. She's a tiny lady but I bet she could take me when a grandchild is involved.
Since we don't have a lot of baby-wise updates (Christy is still doing well, as is Max), I figured I'd post the latest set of nursery photos.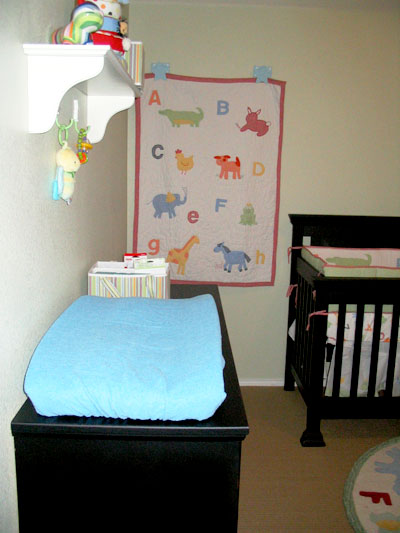 A new shelf for puttin' stuff on.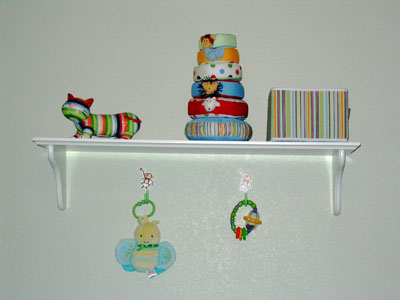 Same shelf, from the front. Hooray monkey hooks!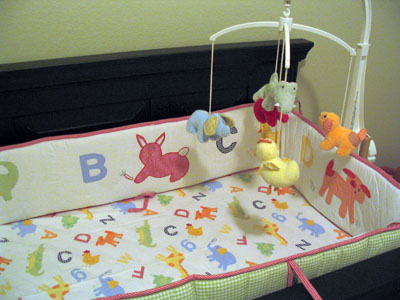 Baby goes here.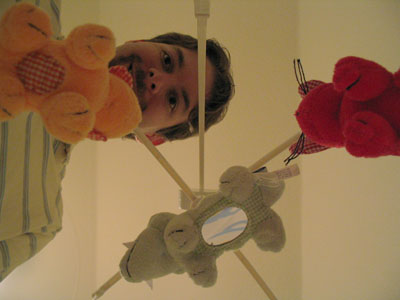 All that work, and this is all Max is going to see.