Thanks to the efforts of my aunts and mother, Max had yet another great baby shower on Sunday. I continue to be amazed at how much stuff babies apparently need to survive. I think all we have left is diapers and bottles. The rest has been amply provided by friends and family that Max sure better appreciate once he's here!
As for the title of today's post…well, we went to the doctor again…
For eight months, we've had a constant stream of doctor's appointments. Every time, the doctor would listen to his heartbeat and confirm (yet again) that he was probably head down.
Then came Thursday.
After the crushing defeat of the gestational diabetes diet and the concerns about having a baby with a giant head, it looks like Max decided to toss another curve ball our way. When the doc tried to find him at Christy's belly button, there was nothing. She eventually found it…a little higher. Apparently, he decided to turn himself right-side up four weeks before his delivery date.
What happened? The doctor says it's pretty normal, and that he may move himself back around by the end of this whole process. We have another theory…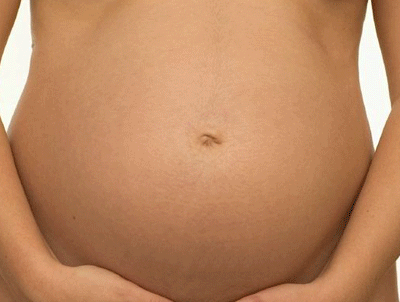 Dramatization. This is not a real Christy belly.
In any case, he's still doing just fine. Even if he decides to stay in his upright chocoholic position, he'll still be here on time. As long as the end result is a happy baby, we'll be happy ourselves.