We hope everyone had a wonderful holiday season! We enjoyed ourselves so much this year! Max is definitely the best Christmas present ever for us!
We managed to make it safely and happily to both Sherman and The Woodlands this holiday season. Max slept through all of the long drives, which made the trips much easier! It was definitely chaotic being around all of the family, but it was so much fun to spend Max's first Christmas around so many loved ones!
Max also gave us the best present ever: he started smiling, and he has dimples! He frequently smiles as he's falling asleep or waking up, but these are full on awake smiles! We can't help but laugh when he does it. I don't know that we'll ever be able to resist giving him everything he asks for, with a smile like that. We've tried to catch a smile on camera, but have only caught one so far.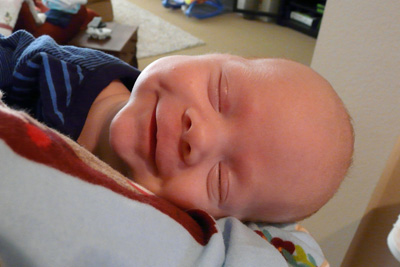 I will get away with murder.
Max currently is struggling with his first cold. I'd hoped we'd be able to avoid illness for a little while longer, but with Jon and I both fighting the sniffles, it was only a matter of time. He's handling it well so far (mainly just sleeping a bit more), so hopefully he'll push through it quickly.
We've uploaded a ton of photos to Flickr, so feel free to take a look for a glimpse at the fun we had over the holidays!